Check for Manual Actions Applied to Your Site
The second step, after checking the messages automatically sent by Google, would be to see if an employee from Google personally reviewed your site and found any guideline violations. While you are on the Webmaster Tools home page, you need to click on the site you want to investigate, then select in the left menu Search Traffic > Manual Actions. If you don't have any actions taken upon your site, you'll see the "No manual webspam actions found" message displayed.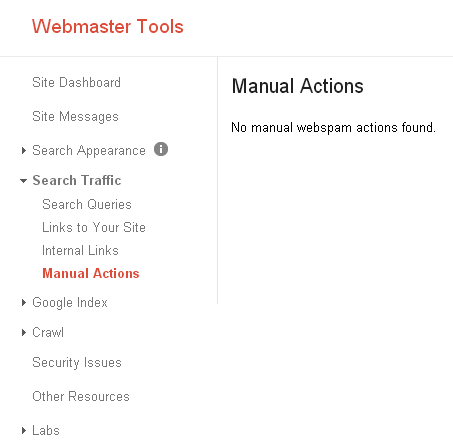 You should be careful about these penalties, as they can destroy your site's rankings. If indeed there are actions applied to your site, you will find them under one of the two possible categories:
sitewide matches or partial matches. Furthermore, you'll have details about the reason why manual actions were taken and the exact parts of your site that were affected. On the manual actions viewer you will have the option to request a review from Google, but we strongly suggest you should inform yourself regarding the latest
Google's guidelines
before requesting a reconsideration.
Check for Crawl Errors
You can look at details regarding pages on your site which the Googlebot had problems crawling or which returned an HTTP error. Access this feature by clicking in the left menu on Crawl > Crawl Errors. The data, that is only displayed for the last 90 days, is split between two major sections:
Site Errors and URL Errors. The first section is listing potential problems Google had, preventing it to access your entire site
URL errors, on the other side shows a complete list of specific links that Google had problems crawling. You have data split among two categories representing two types of Googlebots - Desktop and Smartphone for GoogleBot-mobile ( errors that do not occur on desktop ). Furthermore, you will be able to view graphics on two cases:
a. Access denied - which represents the number of times that a problem with authentification occurs or the Googlebot is not allowed to access the site
b. Not found - which simply means that the link points to a page that no longer exists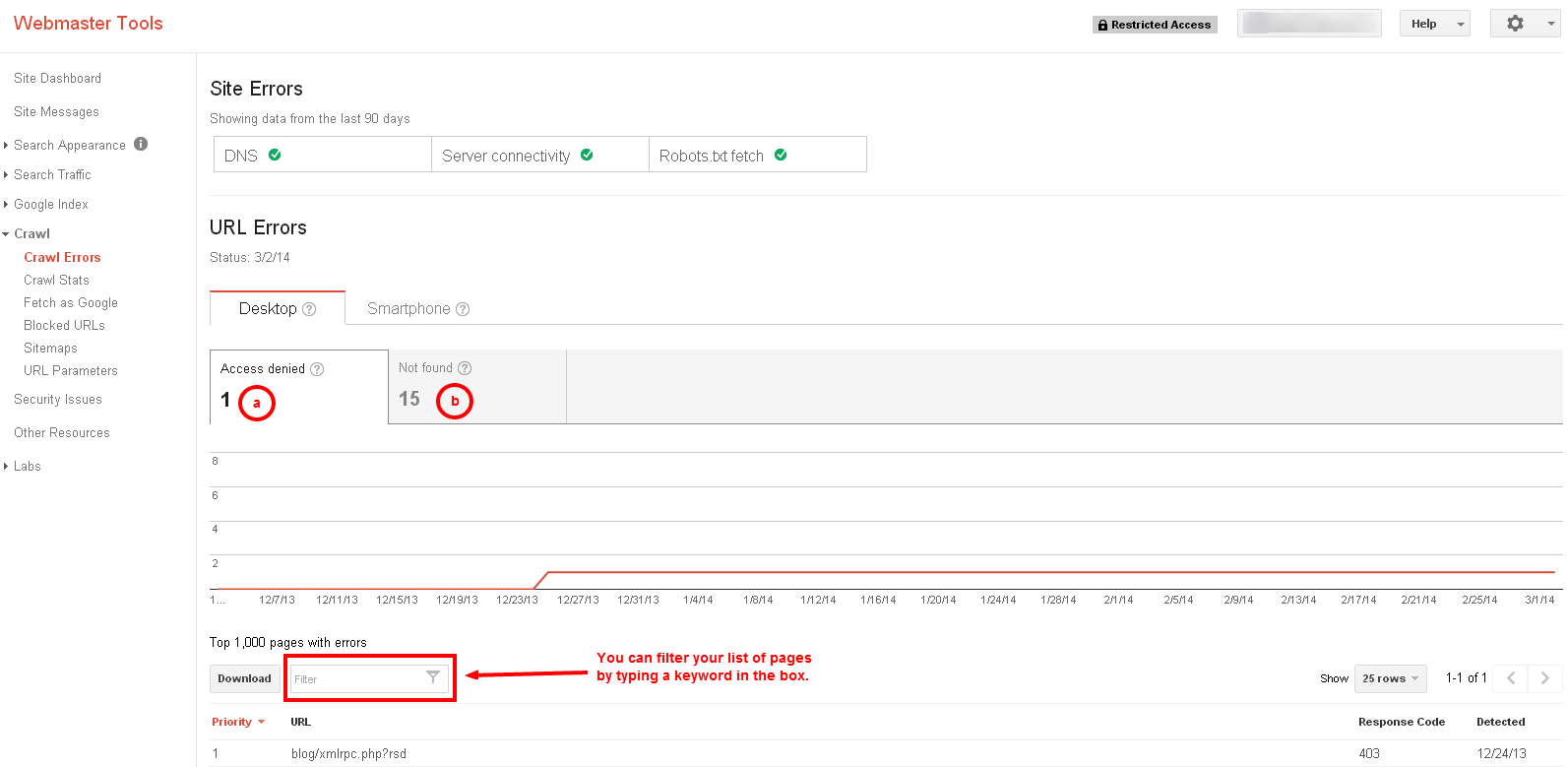 In the lower half of the page you'll find a list with the top 1000 pages that contain errors, which are arranged by priority.
You can also order the list by the response code the Googlebot received while trying to crawl the page (Response Code), or by the date in which these issues were detected.
If you feel there are too many pages with errors displayed and need to find a certain page, you can make use of the Filter box. You can type a word or a part of the word that is contained within the URL that you are looking for and it will automatically display only the links that include it.